"It is one of the most comprehensively feature rich pieces of kit I've ever worked within the studio!"
"The lists of things it does is endless - Connection and set up is a breeze -Beautifully clean/transparent Mic Pres! The best headphone amp I've ever used. Sensational ergonomics! The position of the Jog shuttle wheel in relation to the touch sensitive capacitive screen is nigh perfect. Your hand just falls into the right position and you'll be whizzing around the interface in no time."
Ola Onabulé (British-Nigerian jazz and soul singer and songwriter)
"For me, the Neumann MT48 is the most complete audio interface and monitor controller that I have ever been able to use as an engineer."
"The first, most critical moment of commissioning is always decisive for me. The Neumann MT48 makes it easy for you because, thanks to its clear concept and exceptional workmanship, the device masters all requirements and tasks without having to bother with technical details. Thanks to its versatile interfaces, the device can easily be integrated into a wide variety of work environments."
Terence Goodchild (Engineer - Nils Frahm, Helene Grimaud, Olafur Arnalds, Peter Gregson, Deutsche Gramophone, Lawo, Stage Tec)
"I was amazed not only by the quality of the converters and sturdiness of the MT48 but also the usability of the new interface and portability of the device.
"I got to mix on the road without compromising my conversion. And the touch-screen allows you to easily access parameters without having to open the software on the computer, which made my workflow even faster!"
Julia Borelli (Artist and sound engineer - Nadoki Studios Brazil, Riverside Studios Berlin, SAE, Point Blank)
"When you need something that could control your studio with sonic excellence & versatility, it's the MT48."
"The preamps sound incredible with Indian instruments capturing finest sound with fantastic dynamic range. The onboard DSP for monitoring enables every artiste/engineer to hear sound that inspires their performance. Built like a tank, this unit brings everything a travelling professional producer/engineer/musician would need"
Sai Shravanam (Indian music producer, recording and scoring engineer. - Life of Pi, Singapore Symphonic Orchestra)
"The Neumann MT48 feels, looks, and (most importantly) sounds world-class.
"The interface has a no-compromise portable design, while staying fast and intuitive to use. This makes it ideal for small recording or mixing sessions on its own. The game changer is the ability to add more ilo with aes50, which will make it a perfect choice in a big tracking sessions too."
Oli Jacobs (Grammy-award winning engineer - The 1975, Harry Styles, Peter Gabriel)
"As someone who is always on the lookout for high-quality audio equipment, I have to say that I am absolutely in love with the MT 48 console.
"Of course, the most important aspect of any audio console is how well it works, and I have to say that the MT 48 does not disappoint in this regard."
"What sets the MT 48 apart is the quality of the preamps and the clarity of the output. I've been blown away by the sound quality I've been able to achieve using this console [.]. Overall, I think the MT48 is an incredible piece of equipment that any serious audio engineer would be lucky to have in their arsenal."
Rafa Sardina (Producer and engineer - A true industry legend, having won no less than 5 Grammy Awards and 13 Latin Grammys for his work with top layer artists such as D'Angelo, Alejandro Sanz and Luis Miguel.)
"The MT48. What can I say about this thing? The sonic clarity, the ease of use, the portability, the sheer power and breadth of what it does and what it will do... It really is the best audio interface I've ever had the pleasure of using. A fantastic iteration of the already brilliant Anubis."
"It greatly excites me that Neumann and Merging, two companies synonymous with the epitome of quality, have "merged" - haha- and I'm very much looking forward to seeing and hearing what they will make together."
Kwes (London-based artist, record producer & mixer - Damon Albarn, Kano, Kelela, Loyle Carner, Micachu, Nao, Nubya Garcia, Solange)
"I am astonished at how great it sounds, how easy it is to use, and quite frankly how great it looks and handles, and the touch screen is amazing.
"I never found a mobile interface that convinced me, but I always liked the concept of portability, and it seems Neumann has cracked the code."
Erik Alcock (Canadian songwriter & musician - DJ Khalil, Eminem, PInk, Celine Dion)
"I had a great pleasure to record vocals using the fabulous new Neumann interface. First off it looks beautiful as per usual with Neumann products, compact and stylish with a very nice touch screen which gives a more hands on feeling.
"Most importantly, great sound! So many features, yet so easy to use! A compact powerhouse. Easily the best interface I have ever had the pleasure to record with, I can't recommend it enough.
Craig Walker (Artist solo and with Archive, The Avener & Phoebe Killdeer, Power of Dreams, Nathaniel Mechaly, Michael Nyman)
"Everything about the MT48 screams professional! The mic pres and converters just sound excellent.
The fact that it has two headphone outputs is perfect for the scenario of a producer working in the same room with the artist, which sometimes allows for better communication. And! - more missing headphone splitter cables ;-) "
"Every minute you work with the MT48 you can tell that this is a well thought through, high end professional interface. Good job!"
Axel Reinemer (Founder and designer of JRS Recording Studio)
Featured Product: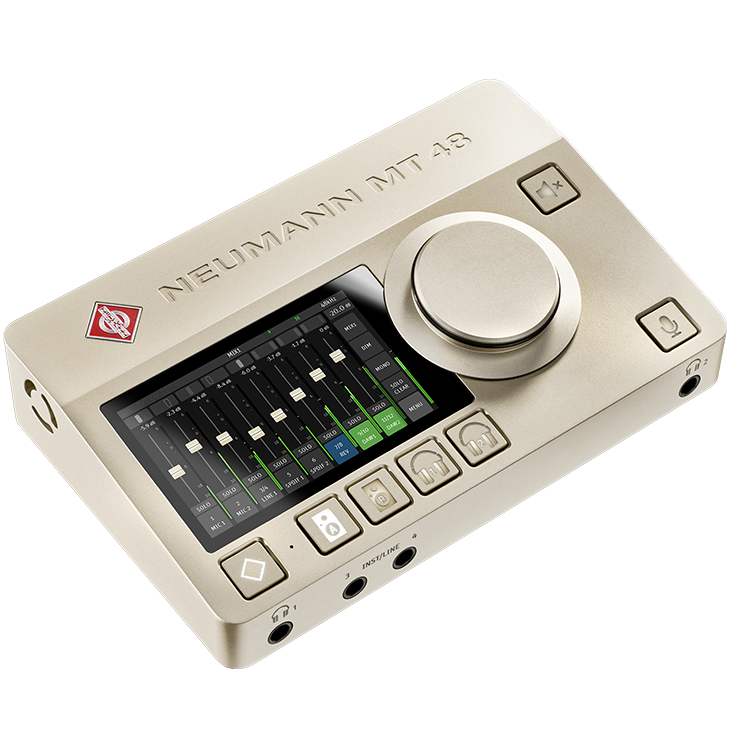 MT 48
Premium audio interface in Neumann quality with intuitive touchscreen control